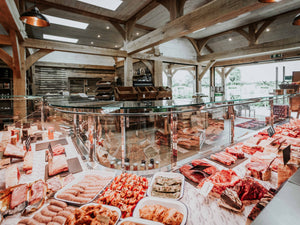 What, Where and Why we source
Bespoke
Editions
This project has been in the making for some time at TJB. We wanted to start a movement where you see exactly what you are buying and of course, give you all the information that seems to be missing these days in the industry like Breed, Kill Date and Passport Number.
To this end we have instructed our butchers to hand select and age produce, exclusively for this page. Sadly that means the stock is very limited but if you manage to grab something, it will be awesome!
Each week we will bring out new and exclusive pieces to TJB that we believe are aged to perfection. The range will cover everything, from Scottish Beef to Suffolk Lamb and everything in between. Once we select for the coming week, we'll take a snap of the exact piece so that you know what you are buying, upload the info here and then its over to you......Grab something while you can!
PS - we have kept the sold out products so that you can see what has come before, rest assured the rest of our website is not sold out…..
Wagyu
Range
Wagyu has been synonymous with the very best for a long time, and for good reason. It's visually unparalleled, super marbled, full flavoured and has a melt in the mouth texture that brings customers back time and time again.
In our Wagyu Range you will find our very most marbled meat, Wagyu produce and other unique breads from across the world that are out of this world. Listed below are a few of the areas that we source our Wagyu beef from:
- UK Full-blood wagyu and wagyu crosses from Yorkshire, Kent and Sussex
- Full-blood wagyu, Wx, Black Angus Reserve and Black Onyx from Australia
- Kobe Beef and A5 Japanese Wagyu from Kagoshima*
*Occasionally we are lucky enough to source Kobe and A5 Wagyu that meets our requirements, if interested please do give our shop a call or drop us an email to see what availability we have.
Gran Reserva
Range
In Spain, a "Reserva" wine is one that has been aged for 3 years while a "Gran Reserva" is a wine aged for at least 5.
Our Gran Reserva range is not for wine, but for older cows from the UK and some fantastic beef from across Europe. It is our no holds barred section where you can find truly exceptional quality beef that is far older than what is considered the norm in the UK. Still focused on grass fed and the highest ethically produced meat, this section is the top of our range, exclusive meat that will no doubt knock your socks off!
Grass Fed
Dry-Aged Beef
Simply put, we are passionate about our Beef.
We source directly from small farms, including our own, then traditionally butcher and dry age in our Bespoke Ageing Facilities in-house. We therefore control each aspect from farm to fork to ensure you have the most traceable, high quality and tasty meat there is.
Focusing on ethics and quality above anything else, there is no question - you get what you pay for here.
Grass Fed
Dry-Aged Lamb
We only source lamb from two places - our very own herd here at Coxtie Green Farm and the Salt Marshes next to Abingdon Reservoir in Maldon. Having this kind of transparency means we can guarantee that all of the Lamb you buy is 100% Grass Fed, Pasture-Raised and Dry-Aged in house by us here at TJB.
This passion for ethics and quality above everything else means that when you buy from us you can rest assured knowing that you have some of the finest meat in the UK at your table.
Our customers say this is what all meat should taste like.
Free Range
Dry-Aged Pork
The pork we source in one word - class.
We only source pigs that are truly free range and pasture raised. The pigs roam around in acres of space, foraging in the mud and maturing slowly These happy pigs make the best quality pork and is the key to our pork's undeniably, superb flavour.
Once slaughtered, we dry-age in the same way as our beef and our lamb, yielding a superior product that is brimming with flavour.
We only ever source from farms, including our own, that we know and trust, ensuring the highest welfare and quality of our produce.
Free Range
Poultry
Our poultry is sourced from Herb Fed in Yorkshire, Label Anglais in Coventry and Packington Free Range in Staffordshire.
All three farms are renowned throughout the UK as some of the best in the industry for their quality, animal welfare and sustainability.
Each farm allows their flock to roam freely all day meaning that they are truly Pasture-Raised. The birds are reared for over twice the time of a conventional bird, sometimes up to and beyond 80 days and the animal welfare on each farm is far surpassing that of even a commercial Organic Poultry Farm.

Packington Free Range are fed a cereal and herb based diet, Herb Fed's birds are fed herbage along with their daily feed and Label Anglais are fed a corn rich diet - all three make up over 50% of their diet by foraging outside, as nature intended.